Tutoring has been around since the beginning of time, however has evolved drastically in the past couple decades. The introduction of technology has been the driving force behind this epic disruption.
Evolution Of Tutoring From In-Person To Online;
For hundreds of years, tutoring was done on a one-on-one level in-person. The tutor would travel to the students home, meet in a public place or even to a lesser degree, conducted over the phone. The introduction of the internet changed all of that and helped to connect children to experts like never before. Today, with the simple click of a button a student can have an answer to a challenging problem, lesson or get instant assistance prepping for an upcoming test. Tutoring has increased in multiple facets of education, which includes becoming one of the most used homeschool resources.
Special Education Tutoring;
Special Education Tutoring has exploded as well over the past 20 years. For children with special needs, often new social interactions are a challenge. It sometimes takes children with special needs longer to establish a relationship with an in-person teacher who just entered their lives. Online special education tutoring changes all of that. Children today have grown up with internet, video chat along with other technology and most often respond immediately when tutoring is conducted online.
As classroom sizes continue to explode and resources decline, more parents are turning to alternative sources of assistance for their children. Special education tutoring is specifically designed to take the curriculum your child is currently being taught in their classroom, and mold it to fit their unique learning needs.
Online Tutoring VS. In-Person Tutoring;
The infographic below, supplied by The Tutor House, explains the differences between online and in-person tutoring.
As a whole, the tutoring industry is expected to be a $102 Billion market by 2018! Online tutoring is becoming a popular choice among children and parents throughout the US.
Schedule;
Online; Set your own schedule.
In-Person; Set your own schedule. Travel time is a consideration for in-home tutoring.
Location;
Online; Tutor in your own home or office.
In-Person; Location can be flexible; in your own home, office, student's home or library.
Materials;
Online Tutoring; Internet access, computer, digital lessons, access to online whiteboard software, microphone and webcam.
In-Person Tutoring; Tutor materials, pencils, calculator, paper, books, manipulatives, and lesson plans.
Positives;
Online; Flexible timing, don't have to worry about transportation, record tutor session for reference, mobile, and helpful to occasional tutor students.
In-Person; Hands-on-learning, tutor can observe behaviors, and tutor can work closely with teacher in-person. More personal and reinforcement of concepts learned, excellent for consistent tutor help.
Negatives;
Online; Poor internet connection, distracted student, technical difficulties, possible language barriers, no hands-on-learning, not a good fit for all learners, text communication can be slow.
In-Person; A more rigid schedule, not immediately available for tutoring, finding upper level or foreign language tutors can be challenging, finding special education tutors that excel in specific areas can be challenging.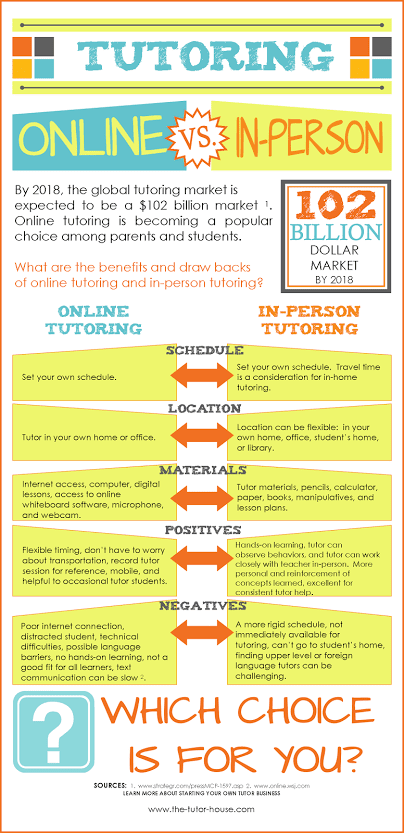 Infographic supplied by The Tutor House