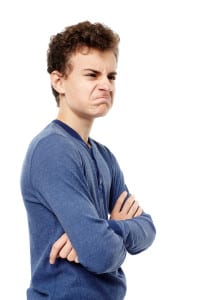 You're here. You know the feeling. You know, that feeling of "How am I old enough to have a kid in high school? There is no way either of us is ready for high school." The secret's out. This feeling is universal. You feel this way if your child is the star quarterback who is taking all AP classes and fielding multiple scholarship offers. You feel this way if your child has special needs big enough that there is a chance they will always live with you. No parent ever felt ready for high school. Whew! No matter where you stand, you're not alone. Your child is not alone.
Special education covers a huge range of kids. By the time some children with special needs reach high school, the focus is to make sure they have the life skills and the basic academics to enable them to move on to college, a job or an assisted living situation. Suddenly, you're faced with things that you have been saying you could put off for years and years. You can't put them off any longer. There are a number of Special Education Resources that will help you get started and guide you in the right direction no matter where you stand. What this means for you will depend on what your child's physical, emotional and learning challenges are.
For some kids entering high school your job remains getting them to learn to focus and organize themselves and their work. For other kids, it might be time to talk to a social worker or an attorney about the best route to take when your child turns 18. Don't let it take you by surprise. Some children are faced with enough challenges that they will never be able to live completely independent lives. The sooner you tie up loose ends, the less chance there is that someone will take advantage of your child or that they will be left at odds in the event that you become ill or die suddenly. (This worst case scenario is unlikely. Think of it as the grown-up equivalent of your mom telling you to put on clean underpants every morning – just in case you're in an accident. Prepare for the worst and be happy when it doesn't happen.)
Your plans for your child's high school journey might include homeschooling, Special Needs Tutoring or working through the local private or public school system. No matter what you are going to do, if you are not already familiar with FERPA, take a moment to visit the link and read and understand what your rights as a parent are and what your child's rights are as well. Keep in mind that unless you have made arrangements, when your child turns 18, you are no longer entitled to immediate access to their school or medical records. Start asking questions well before you child becomes a legal adult.
Okay, we've touched on the hard and scary stuff. Let's look at the reality of high school. High school can be a lot of fun for you and your child. Below are a few suggestions, special education resources and general education resources that can help you get a handle on how to best help your child. Get your special education resources into a handy folder so you can find things that interest you but that you might not need right away.
Special Education Resources For High School Age Children;
The high school years are challenging for every parent. They can be doubly challenging when you have a child with special needs. Use these resources and others that you find as you read to help you navigate the next four years. If you feel like you're "behind," don't worry – start a check list (or two or three) and work methodically through them. You're your child's best advocate – remember that!