ESY For High School Students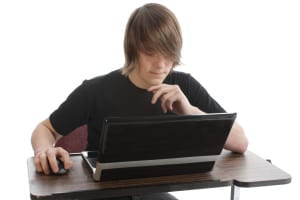 If your child with special needs is in or approaching high school, it's important to remember that the move to high school does not preclude services or assistance you child has received through the school system thus far. The Individuals with Disabilities Educational Act (IDEA) and its stipulations hold true throughout your child's K-12 education. The key to making the IDEA work for your child depends on you working with their school and developing a sound Individualized Education Plan (IEP). In high school, you will be working with a new team of professionals in creating your child's IEP. Whether you have used the Extended School Year (ESY) services in the past or not, it is worth discussing early in the school year to determine if it is something that would benefit your child.
The Extended School Year is not guaranteed to every child. Nor is it guaranteed each year regardless of whether your child has had it in the past. Finally, this service is not designated for certain type of disabilities or learning challenges – anyone who qualifies to have an IEP may be eligible for ESY. You will find that the burden is on you, the parent, to obtain ESY. To qualify, it must be demonstrated that your child will "regress" – lose skills, behavior, knowledge – over school breaks. And, you must demonstrate, in light of this regression, that your child will spend much of their classroom time recouping what has been lost rather than learning new material. Regression and recoupment are only two of the criteria considered when deciding that a child will benefit from ESY. Other factors such as interfering behaviors, emerging skills, breakthrough opportunities, and critical life skills must be considered as well.
If you have been through this when your child was in elementary or middle school, you are already aware of how challenging it can be to document regression even when you are working with one or two teachers. High school brings with it an even steeper challenge of working with as many as seven different teachers! It is worth your time to know your school district's specific ESY policies as well as studying the ESY case law in your state. While most school personnel are well-meaning, they are usually not the best source of information. Do your own research and educate your child's IEP team if need be. Wright's Law is a good place to start as you research details and case law.
What does the Extended School Year look like for a high school student? First, let's be clear about what ESY is not.
ESY is not a continuation of the school year.
ESY is not a program to help your child advance their skills.
ESY is not limited to summer break.
Rather, ESY is used to keep your child's skill levels up to speed. In high school, this service can take many forms. Much depends on how your school district's ESY program is funded. Due to the way the ESY portion of IDEA is written, there is no provision for federal funding. As a result, many states struggle to meet the guidelines for the law as it is written largely due to the fact that school budgets are already tight.
In high school, students have different needs as they begin focusing on their futures. ESY programs around the country seek to address these changes in different way.
Home-based ESY – An Extended School Year may be something as simple as a teacher creating a special package of work for the parent and student to do together at home. The teacher will evaluate and critique the work intermittently.
Grouping similar students – ESY programs often try to group kids with similar IEP goals together to get the most out of their programs.
Life and Social Skills – for some high school students, especially those on the autism spectrum, ESY programs that focus on social and basic life skills are offered.
Physical, Occupational or Other Therapy – ESY extends beyond the classroom by providing services students need even during school breaks.
Combined District Programs – Due to limited resources and financial constraints, school districts often pool their resources to provide ESY services that fulfill the Fair and Applicable Public Education (FAPE) standards. It will be up to you and your child's IEP team to determine if the benefits of ESY will outweigh the detriments if your child has difficulty in new environments.
Outside Resources – Some school districts have contracts with special education tutoring services that they use to provide students with the specialized tutoring. If this service isn't provided by your district, some may reimburse you for your out of pocket expense. Either way, working with a non-biased special education expert can truly impact your child not only from an academic standpoint, but behavioral as well.
Especially important for high school students are ESY programs that focus on transitional services. This type of an extended school year program help teens get, keep or get ready for a job. Such programs are not available in all districts but, when they are, can be valuable not only for the skills they work on but for the boost in self-esteem students receive.
There is a chance that your child will not qualify for an ESY condition in their IEP. Or, you may decide to work at home with your child during school breaks. In that case there are a wide range of special education resources and specific special education homeschool resources that you can adapt and use with your child. The point of all of this is that your child's education is just that – an individual education.
Remember, no one cares about your child's future as much as you, their parent (and them of course). Never give up, never stop asking questions until you thoroughly understand all of options available to them. It's important to remember that success should never be measured against the ideal, instead pay attention to where you are today in relation to where you started. With your willingness to learn and adapt, you can ensure your child gets the education that is best suited to their specific needs.