Advocate For Your Child
By: Suzie Dalien, M.Ed.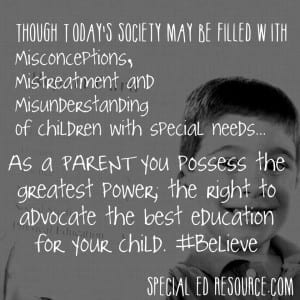 As A Parent, You Have The Right To Advocate The Best Education For Your Child.
Though today's society may be filled with misconceptions, mistreatment and misunderstanding of children with special needs… As a parent you possess the greatest power; the right to advocate the best education for your child. #AdvocateExcellence #ParentAdvocate #SpecialEducation
---
This entry was posted on Sunday, December 14th, 2014 at and is filed under Parenting and tagged as . You can follow any responses to this entry through the RSS 2.0 feed.