Nicknames Can Be Life-Changing
By: Diana Chase, M.S.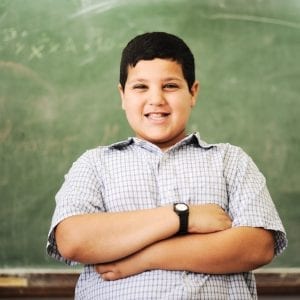 One of my most significant "they don't teach you this at school" moments came very early into my teaching career.  I was a first-year teacher, in a 1st-3rd grade Special Education Classroom, responsible for educating 15 students with not only very diverse learning needs, but their (even more) diverse upbringings and home-life.
Many of these poor children came to school hungry, lacking sleep, scared, and lonely.  Fresh out of college, I was eager to focus on reading, writing, and math. Because, after all, that's what we are supposed to focus on in school, right?! We aren't supposed to spend time doing anything but drilling reading, writing and math, right?!
Wrong. Boy, was I wrong.  Very wrong.
A Nickname Can Make An Impact

In an attempt to build rapport with these strong-willed learners, and for my own sanity, as I tried to learn their names, I also began calling them by nicknames. (Mr. Smith, Smiley, Sir Gregory, etc.)  I noticed the smiles when I used them, though this was after I answered the, "Hey, that's not my name.  Why did you call me that?" question multiple times!  I continued to use these names throughout the first couple of weeks, even long after I knew their legal names.  We were making progress in reading, writing, and math, so perhaps I was doing what I was supposed to do, right?!
One particular student, we'll call him John, had what I would consider a rougher home life than anyone his age should have had to experience.  He struggled academically and behaviorally, but we were making slow and steady progress.
10 Things Parents Need To Know About Self-Contained Classrooms
Please enter your details to download the free report.
Learn how to navigate the public school system and obtain the best possible education for your child with a learning disability.
Download Free Report
One day, John, whose nickname was either "Dimples" or "Mr. Smith," was next up to come read with me.  I called John to join me at the back table.  John, looking visibly sad, approached the table and slumped down into the seat.  I tried a few of my "teacher tactics" to snap him out of it, but when they didn't work, I simply asked him what was wrong.  He didn't seem to want to share and was following my directions, so I let it go. His turn ended, and I called my next student, by his nickname, of course.  It was at that moment I could tell "Dimples" was ready to open up…
Dimples: "Why didn't you call me by my nickname?"
Me: (smiling and putting my arm around him): "Just because 'John' came out first.  That's your name, too. Just like the nickname I gave you."
Dimples: "Can you call me Dimples next time?"
Me: "Of course I can.  But sometimes I may forget.  So, Dimples, do you mind telling me why you would like me to use your nickname?"
And, then came his answer, which both melted and broke my heart at the same time…
Dimples:  "Because I have never had a nickname before.  That name is made only for me.  No one else has it."
~ Diana Chase
---
This entry was posted on Monday, July 25th, 2016 at and is filed under Special Education Teaching and tagged as Diana Chase, Positive Influence. You can follow any responses to this entry through the RSS 2.0 feed.