Change Can Be Difficult
By: Suzie Dalien, M.Ed.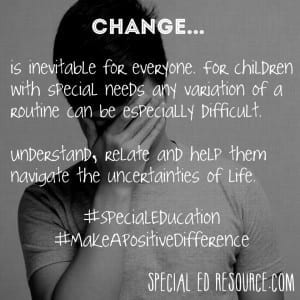 Understand, Relate And Help Children Navigate The Uncertainties Of Life;
Change is inevitable for everyone. For children with special needs, any variation of a routine can be especially difficult.
As parents and educators, we have the power to minimize the negative effect change can have on children with special needs.
Be a positive, understanding and caring voice.
#PositiveInfluence
#SpecialEducation
---
This entry was posted on Friday, January 2nd, 2015 at and is filed under Special Education and tagged as Positive Change. You can follow any responses to this entry through the RSS 2.0 feed.