Keep Goals Simple For Children
By: Suzie Dalien, M.Ed.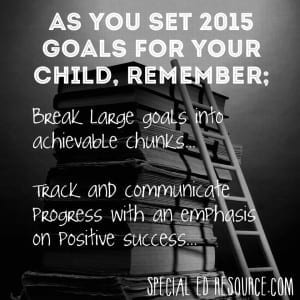 For Children It's Vital To Keep Goals Simple, Achievable And Fun;
It's that time of year again… people across the world set their 2015 goals!
As you set 2015 goals for your child remember;
Break large goals into achievable chunks…
Track and communicate progress with an emphasis on positive success…
#HappyNewYear
---
This entry was posted on Thursday, January 1st, 2015 at and is filed under Parenting and tagged as Simple Goals. You can follow any responses to this entry through the RSS 2.0 feed.