Knowledge Is Power
By: Suzie Dalien, M.Ed.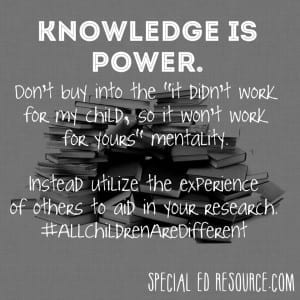 Educate Yourself In All Aspects Of Special Education

Don't buy into the "it didn't work for my child, so it won't work for yours" mentality.
Instead, utilize the experience of others to aid in your research.
The more knowledge you have in the world of special education, the better equipped you'll be to advocate the best possible education for your child.
#AllChildrenAreDifferent #SpecialEducation #KnowledgeIsPower
---
This entry was posted on Monday, January 5th, 2015 at and is filed under Special Education and tagged as Knowledge. You can follow any responses to this entry through the RSS 2.0 feed.