Special Education IEP Defined
By: Suzie Dalien, M.Ed.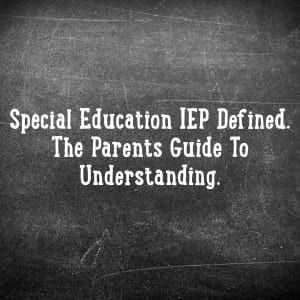 Individualized Education Plans or IEPs are written documents that represent the provision for special education services for students with special needs. A growing number of students in public schools qualify for special education in a wide range of categories, including speech-language impairments, learning disabilities, chronic health impairments, emotional disturbance, mental retardation, autism, hearing impairments, visual impairments and others. In short, there are a total of 13 separate categories.
As mentioned above, the Individualized Education Plan or an IEP is a written document required for children who are eligible to receive special education services. The members of the IEP team provide detailed information on children's performance and offer direct support and services to students as per the requirements. A performance analysis is conducted to make provisions for determining annual goals, carefully evaluating the progress, and formalizing FAPE – free and appropriate public education for the student with disabilities.
Components Of An IEP
(1) Monitoring and analyzing present levels of functional performance and academic achievement
(2) Determining and measuring annual goals
(3) Making provisions for special education related services
(4) Determining the amount of time students remain out of general education classes
(5) Planning participation of students in state or district-wide academic assessments
(6) Providing transition services
IEP Legislative History
Public Law 94-142, also known as 1975 EHA, contained the first requirement for development of IEPs for children with disabilities. Subsequent to the 1975 EHA, reauthorizations of the law modified the IEP requirements. With each reauthorization, the requirements for an IEP were adjusted to address the new need, focus and challenges that identified during the time. The 2004 IDEA amendments introduced several necessary adjustments to the IEP to address the need for increased accountability with the requirements of the Elementary and Secondary Education Act.
Now that you are aware of the basic structure of IEPs let's take a look at some pros and cons. This small comparison should help you make a better choice. Being informed and aware of the procedures can help you make the right decisions and have a positive impact on your child's life.
Special Education IEP Pros
IEP's can provide much-needed services and support to students with special needs. Funded by tax dollars, these vital services are performed at no additional cost to families. Additionally, children who are medically vulnerable receive occupational, physical and speech therapy for free.
Proper intervention through an IEP can help students with special needs make progress both academically along with any behavioral issues that may exist. Often times, behaviors are a symptom of the frustration felt when a child is struggling to understand lessons being taught.
Special education programs are more inclined to deliver services and make provisions as per the needs of the students.
Special Education IEP Cons
Any time a label is placed on anyone, the likelihood of that person feeling different or removed increases. Parents must help their child understand that in special education, a label simply means they learn differently, and they will finally receive the additional assistance needed to reach their excellence.
If selected to be part of an inclusion program (remain in a mainstream classroom), it can be difficult for the student to get all of the help and attention needed to meet their goals. It's important to note, students who are part of a special education inclusion program do, by law, receive additional services and support as factored in their IEP.
Careful attention from all educators and parents needs to be placed on each student's IEP. Failure to do so may cause unneeded disruption in that child's ability to perform at their maximum. Additional attention and instruction most likely will need to take place outside of the classroom to ensure the child reaches their goals as efficiently and quickly as possible. Supplemental learning through special education tutoring is increasing in demand throughout the US. As classroom sizes continue to climb and budgets continue to fall, parents are taking their child's educational needs into their own hands.
Things To Remember
In the end, one should always weigh the pros and cons of an IEP. Though special education programs have been around for several decades and thousands of children have benefited, the process isn't perfect. No one cares for your child more than you, the parent. Ask questions, provide feedback and be a part of every decision made throughout your child's education journey. Armed with information and the proper guidance, it's a battle you can win.
---
This entry was posted on Friday, November 7th, 2014 at 9:22 pm and is filed under Special Education IEP and tagged as . You can follow any responses to this entry through the RSS 2.0 feed.