Reading can be a REAL bear…
It's one of those skills we use every single day for our entire lives, but there's SO much to learn…
One of the first aspects of reading for a youngster, is mastering sight words…
Learning sight words is a fundamental skill for every developing reader.
They are used very frequently in printed materials, so knowing these words increases a child's reading fluency and accuracy, which in turn increases a child's comprehension and confidence.
However, these words don't play by the rules—they cannot usually be sounded out.
So what does this mean for teaching sight words?
Drills, drills, and more drills…
10 Things Parents Need To Know About Self-Contained Classrooms
Please enter your details to download the free report.
Learn how to navigate the public school system and obtain the best possible education for your child with a learning disability.
Download Free Report
However, repeating flashcards over and over gets boring for even the most diligent student.
Sight Words Hack For Parents
To beat the monotony, I've put together a list of sight word strategies and activities:
Sight Words Hack #1; Get Messy
Include sight words in sensory play.
Use fingers to write in;
Bend and twist pipe cleaners or wikki stix to make letters and build sight words.
Roll, cut, and organize play-doh to create words.
Any way you can think to give your child the "hands-on" experience will work for this one.
Sight Word Hack #2; Play Games
Incorporate these words into games your child likes to play.
Make a set of sight word cards and play "Go Fish."
Have a sight word scavenger hunt, and require your child to read each word before collecting the card/clue.
Make Bingo boards with these specific words instead of numbers.
Here's the best part…
Your child will be having so much fun they'll forget they're doing schoolwork!
Sight Word Hack #3; Use Secret Passwords
Post sight words at the front door or around the house to be used as secret passwords.
Require every person who wishes to enter to read the word in order to gain entry.
Change the password as often as words are mastered.
Need more words to be included in practice?
Require passwords to every room, cabinet, or drawer.
Your child will be reading "away" like a pro after a few days of the cookie drawer being locked up with this password!
Sight Word Hack #4; Sing Songs/ Chants
Have you ever wondered why songs get stuck in our heads?
Every time I find myself singing "Baby Shark," I can't help but wonder!
Even though I can't explain why we do this…
The same thing happen with sight words!
Make up songs or chants with your child spelling and saying some of those tricky words.
Not much of a musician? (I'm not either)
Jack Hartmann and HeidiSongs are two of my favorite sight word artists on YouTube.
Advanced Parent Hack
If, for whatever reason, your child STILL struggles with sight words… we can help!
How?
Well, that's going to be different for every child…
The first step is to have a no-cost, no-obligation chat with one of our experts… Results happen quickly from there!
What's your favorite way to practice sight words?
Leave your ideas in the comments below!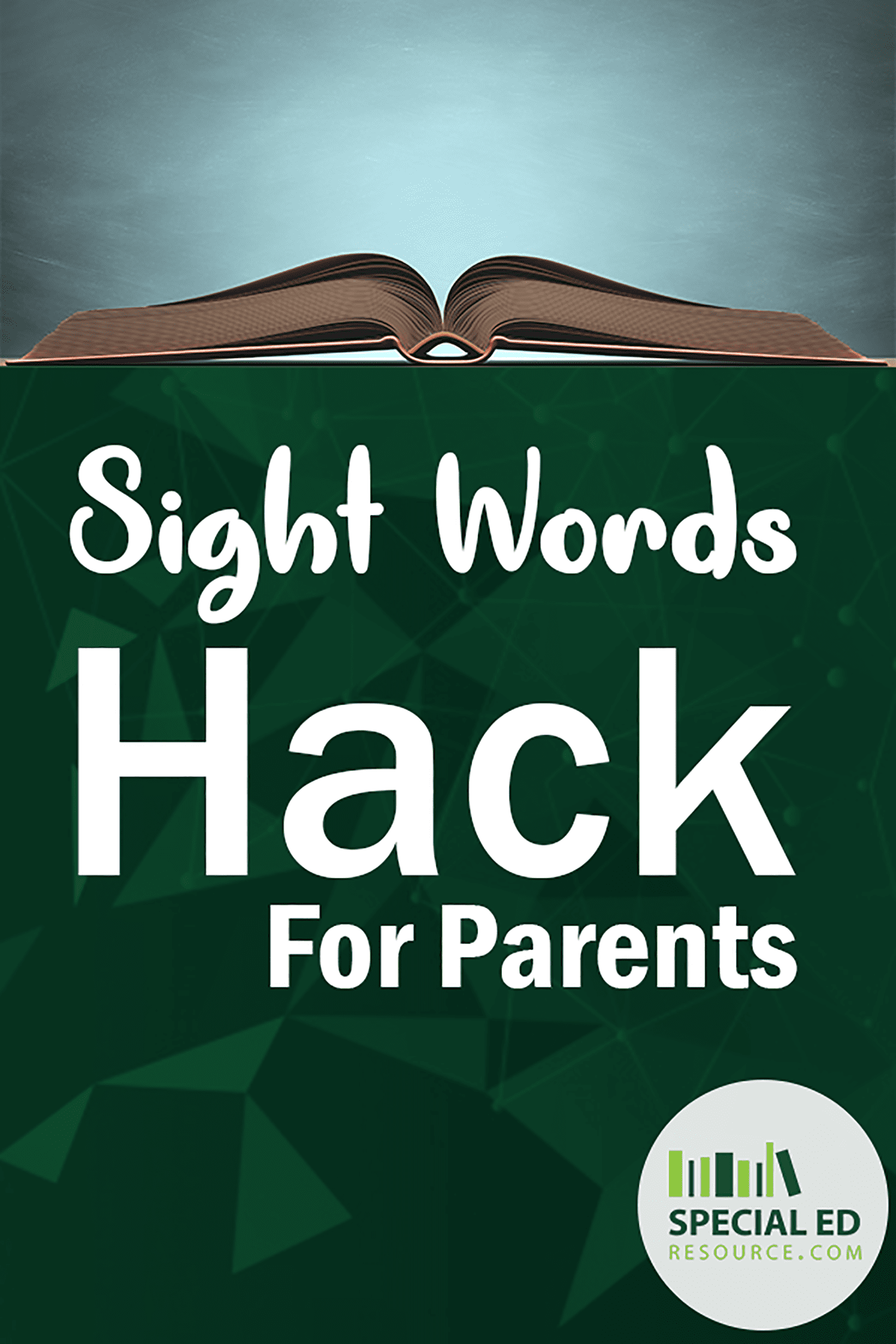 Sight Words are SO crucial to developing a solid reading baseline! However, they can be tough and BORING! As parents, these hacks can make a massive impact!