Success Is A Combination
By: Suzie Dalien, M.Ed.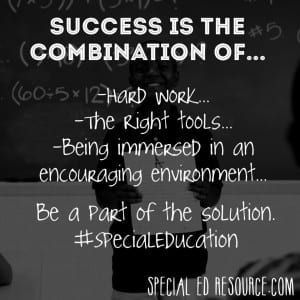 Success Is The Combination Of;
Hard Work…
The Right Tools…
Being Immersed In An Encouraging Environment…
Be A Part Of The Solution.

As parents and educators, the environment we create for children can directly impact their ability to reach maximum success.
#Encourage #BePositive #Listen #Guide #Understand #SpecialEducation
---
This entry was posted on Saturday, January 3rd, 2015 at and is filed under Special Education and tagged as Success. You can follow any responses to this entry through the RSS 2.0 feed.