What Makes Me Different?
By: Suzie Dalien, M.Ed.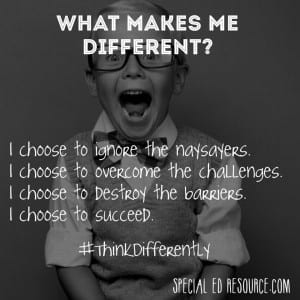 I Choose My Path In Life.
What makes me different?
I choose to ignore the naysayers.
I choose to overcome the challenges.
I choose to destroy the barriers.
I choose to succeed.
Life is full of choices. Going against the grain and what society often sees as "normal" isn't easy. However, the rewards can truly be life changing. #SpecialEducation #ThinkDifferently
---
This entry was posted on Sunday, December 28th, 2014 at and is filed under Special Education and tagged as Choices. You can follow any responses to this entry through the RSS 2.0 feed.