Be The Voice Of Change
By: Suzie Dalien, M.Ed.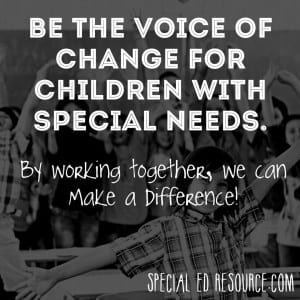 When enough people band together, anything is possible.
Be the voice of change for children with special needs. By working together, we can make a difference! #SpecialEducation #PositiveChangeCanHappen #YouHaveAVoice
---
This entry was posted on Friday, December 12th, 2014 at and is filed under Special Education and tagged as . You can follow any responses to this entry through the RSS 2.0 feed.