Children need relationships with peers to build social skills. These relationships teach children how to communicate and play well with others. Finding friends, they have something in common with will help build confidence and self-esteem and let their guard down.
But social skills don't always come easy to children with special needs. Nevertheless, finding acceptance in a social circle can do wonders for a child's attitude and self-worth.
Anxiety, stress, or other communication barriers might prevent a child from knowing the appropriate action during a social interaction, which doesn't come naturally for some.
What are Social Skills? 
Social skills can be defined as the communication and interactive skills that we use daily. This can be both verbal and non-verbal, including body language, gestures, and personal appearance.
Social Skills are enormous in today's society and affect how we interact, perform, and live our lives. Having excellent social skills helps an individual build and maintain many parts of life such as:
Better communication

Relationships

Efficiency

Careers

Personal happiness
Social skills vary from one student to another. Each student is unique and needs help with different types of social skills. Both students with disabilities and without benefit from social skill training.
Knowing your child and his needs is the first step in ensuring which one to teach. Does your child struggle with any of these?
Being Considerate of Others' Feelings

Having Good Manners

Expressing Individual Needs

Effectively Communicating With Others
Types of Social Skills
Communication in any language, both verbal and non-verbal, is the essential building block to human interaction worldwide. Without functional communication methods, the world would not run smoothly.
Non-verbal Social Skills
Non-verbal social skills consist of actions, hand gestures, or overall movement while in a social setting. However, a large part of communication consists of body language, which we act in different environments.
Your child may have trouble making and keeping friends because of nonverbal queues such as:
Non-verbal queues like these can signify you are open to social contact.
Smiling

Eye contact

Friendly hand gestures
Non-verbal queues like these can signify you are uncomfortable with the social situation.
Turning away from a person

Keeping your arms to your side or crossed in front of you

Not making eye contact while another person speaks
Most non-verbal social skills happen without us knowing, so it's essential to teach children to be aware of their actions while handling social events.
Verbal Skills
Your tone of voice shows your emotional state, and you might not even know it. For example, speaking very softly or monotone can signify you are shy, unhappy, or uncomfortable. 
When a child with special needs is confronted with a social situation, they may create a defense barrier and struggle to find a way to connect with other children.
Examples of Social Skills Needed
This is a broad range and not an all-inclusive list of examples.
Cooperation

– interacting appropriately with others (i.e., sharing and taking turns)

Participation

– attempting a task even when it may be difficult

Being Patient

– listening and waiting his turn

Helping Others

– builds interpersonal skills such as "giving back"

Following Directions

– builds character and respect for others

Staying on task

– builds focus and persistence

Accepting differences

– teaches diversity and the importance of differences

Listening

– helps a student learn to be an "active listener"

Communication & interaction

– be respectful to others, and they should be respectful to you

Praising others

– teaches students to not "put down" others and letting them know what they have done well

Being polite and courteous

– helps students learn how to interact with others

Using good manners

– when talking, eating, or in public

Respect

– ourselves and others, accept responsibility for what we say and do and be truthful and honest
Disabilities come in many forms, and each one presents its own set of unique challenges, especially during social interactions. 
For example, physical issues, mental disabilities, or behavioral problems can prevent a child from performing the necessary non-verbal communication to bond with their peers.
Learning Social Skills
There are subtle ways a child can learn social skills. These consist of the tone of voice and volume, waiting your turn to speak, and reciprocating behavior in a social setting, and can be frustrating for children with special needs.
Start slowly and have patience – you will have to reiterate actions and behaviors repeatedly before the concept has been set, which isn't always easy for everyone involved.
You can teach social skills over time, but it can be a difficult road to travel. You might feel stressed, angry, anxious, or lonely while teaching your child with special needs like you have no support.
That's a perfectly natural reaction to the situation, and it requires discipline on your part to keep up appropriate actions to help your child learn how to behave on their own.
We have small virtual group classes that help teach children these skills and practice in a positive environment with their peers. For example, take a look at STRIDE, our Socializing and Taking Responsibility In Developing Excellence program.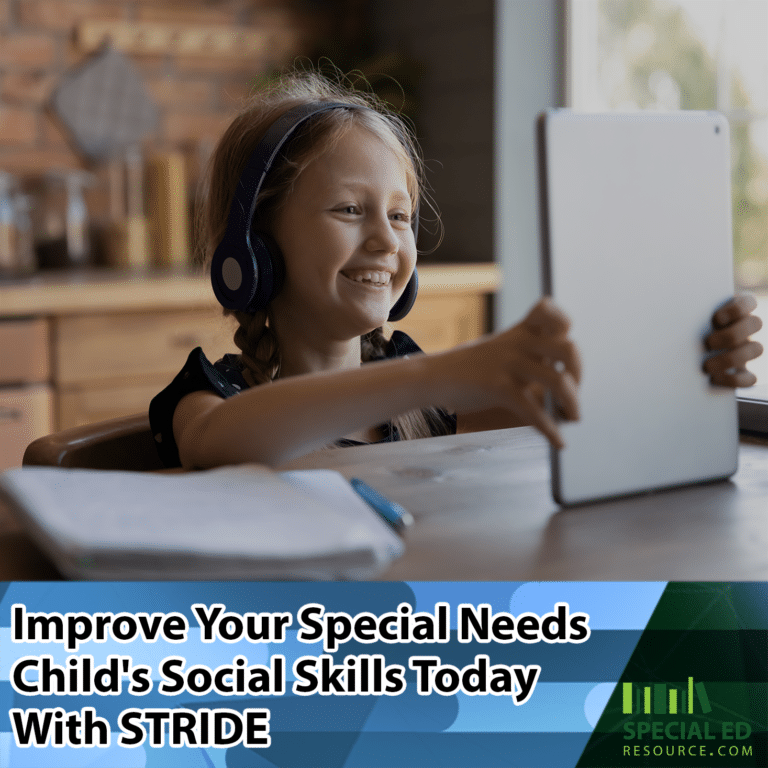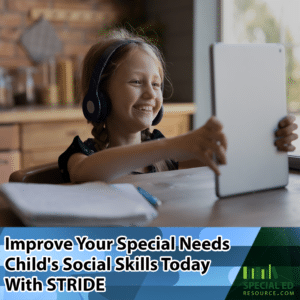 Tips for Teaching Social Skills
Don't try to teach all the skills at once. Instead, pick one specific skill and focus on it. Once the particular skill is explained, then teach the skill. You can brainstorm how the skill will look and sound.
Then when this is completed, practice the skill. Finally, allow the students to use this newly taught skill throughout the day in various settings.
Reinforcement of the skill is the only way to help the students learn and remember the specific skill. This can be done by incorporating the new skill into everyday daily routines.
Also, remember children learn different skills at different ages. So, don't try to rush them all at one time.
Activities to Improve Social Skills
There are many tactics to help your child improve social skills, and the method should be tailored to fit each child's individualized abilities. Here are some ideas.
• Parallel play – In this exercise, your child will be playing with another child but side-by-side. This allows them to get used to the idea of other children being around them without actually interacting, and each child is playing with a separate toy or object.
• Sharing – Yes, what your mother has been yelling at you for years is a fundamental part of learning. This means doing something with another child at the same time, with each child getting equal participation.
• Taking Turns – Once your child with special needs is comfortable with the idea of sharing, it's time to allow them to take turns playing with another child. This will enable them to use appropriate actions and adjust their behavior as necessary.
• Cooperative Play – This allows you to set rules for a game to help your child learn to play within the game's requirements. Everyone will follow the same set of rules, which shows the child the correct way to interact with other children.
What More Can You Do to Help Your Child?
Most often, children with special needs view social situations and circumstances differently than other people. Therefore, before exposing your child to a social group, make sure you know the specifics of the event.
This will help you identify potential stressors for your child and allow you to either modify the environment or prepare them for what will be coming.
Disabilities come in many forms, and each one presents its own set of unique challenges, especially during social interactions. 
For example, physical issues, mental disabilities, or behavioral problems can prevent a child from performing the necessary non-verbal communication to bond with their peers.
Social skills are gleaned over time as we watch our parents, caregivers, and teachers interact with other children and us, but these skills are not picked up as quickly for a child with special needs. 
It typically takes time, patience, and consistently appropriate behaviors in a one-on-one setting for a child with special needs to see improvement in social interactions.
Here Are Additional Resources
Tell Us Your Experience
What has been your experience with Social Skill development? Please leave a comment… we'd LOVE to hear from you!
If you enjoyed this article about a better bedtime routine for kids, please consider sharing it on Pinterest and Facebook. Join our Special Ed Parenting Facebook Community to connect with other parents of special needs children. 
Do you have a child that needs one on one assistance?  
We offer one-on-one special education tutoring that can be done from anywhere the student is! Why? Because our special education experts conduct their sessions online!
Get started with a free consultation today!