We all encounter problems throughout the day.
Some problems are more significant than others.
Such problems can leave us feeling angry or frustrated.
As a child, problems can cause reactions much more significant than what the problem actually is. Teaching our children to regulate their emotions will help the child solve their problems more effectively. If your child is having a hard time problem solving, this may be because your child may not be able to regulate their emotions in order to cope with stressors effectively.
Size Of The Problem Matters

Problem Solving Equations
It can be helpful for kids to utilize an equation to help solve a problem. A problem-solving equation can provide appropriate steps to process stressors.
According to Social thinking; One equation or formula to help a child understand a problem is; problem= an unexpected event or perspective + an uncomfortable feeling. It should be noted that not every unexpected event is a problem.
Some unexpected events cause us to feel happy or excited;
Flowers being delivered.
Hitting all green lights on a busy street.
These situations do not become problems because of the positive emotions associated with them. This is why we add an "uncomfortable feeling" into the formula/equation.
Tired Of The Endless Search For Answers?
Schedule A Free Consultation With A Special Education Expert Today!
Free Consultation
Size of the Problem
Not every problem is created equally.
For children, a stressor can be as simple as getting a paper cut or as complex as a family member passing away.
When working with children, we identify problems in three different sizes:
Small problems
Medium problems
Big problems
In order to help a child with problem-solving, the first step that needs to be done is identifying the severity of the problem. Once they have figured out the size of the problem, the child can match their emotional reaction accordingly.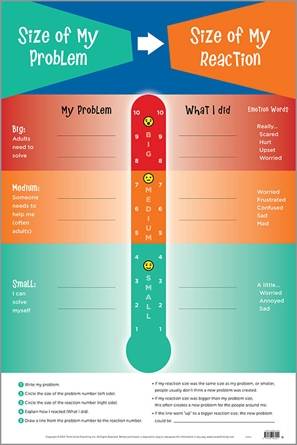 The thermometer diagram from Social Thinking is a great visual example to help a child identify the size of the problem and the proportionate reaction.
Small Problems;
The numbers 1-4 represent small problems. Small problems are defined as those that can be pretty easily solved on our own, despite feeling slightly sad, annoyed, or worried.
Medium Problems;
Medium problems fall into the 5-7 range. These problems may require assistance, often an adult, to solve. That said, it is expected that kids help solve medium problems. The numbers 8-10 represent big problems.
Big Problem;
A big problem makes us feel acutely scared, hurt, worried, or upset. Due to the severity of this range, adults should be heavily involved in the problem-solving process.
A great way to help a child understand the size of their problem is to illustrate problems on the thermometer on either the green orange or red section or circling the corresponding number in the area. Assist the child in identifying a proportionate response to cope with the problem.
Once a child starts to understand the severity of problems, they will be more prone to regulate emotions appropriately, utilize logic under duress and effectively problem solve.
Info Graphic Supplied By Social Thinking