Let's face it – summer can feel long when your kids are out of school. Sure, you want them to have fun but you want them to understand that learning is a lifelong, full-time activity. Learning does not stop simply because school is out.
The good news is you don't have to become a homeschooler or possess a teaching certificate to provide your kids with summer learning activities that are actually fun. 
#1 Easy Outdoor Summer Learning Activities 
Kids love being outside and they don't usually correlate outside with "learning". So they won't even realize what you are up to!  
– Practicing Communication Skills
When walking outside talk to your child about what you see in nature. 
When communicating with your child, use rich vocabulary. Just chatting with your son or daughter empowers them to ask relevant questions and helps them to learn how to communicate effectively. 
Communicating also builds critical thinking skills. When you ask them about something in the environment (an open-ended question), they must think about the question and how to answer it before answering. 
Here is a great list of 250 questions to get you started with conversations with your kids.
– Colors and Shapes
Another simple way to learn while outdoors includes talking about different colors and shapes in the environment. Extend beyond the basic colors and shapes.
Focus on three-dimensional shapes or advanced colors. When focusing on the colors, ask your son or daughter, what colors they must mix to make that specific color. 
Just being outside provides you and your child less stress and helps lower anxiety. Being outside helps yours and your child's mental health.
– Parks and Playground Learning Activities
Playgrounds and parks are great places to find shapes, lines, and many other geometry-related skills.
Have your child identify basic shapes on the playground as they move between equipment pieces.
If your child is a little older, spark their creativity and find;
Parallel
Perpendicular
Horizontal
Vertical
Oblique lines on the equipment
Hopefully these small, "packing free" ideas will help you squeeze in some skill and concept practice throughout the many trips you'll take over the summer.
And, if you're really lucky, maybe your child won't even realize that they are actually WORKING on summer break!
– Go Stargazing
Get everyone to take a nap one afternoon with the promise of excellent snacks and your undivided attention for a night of watching the sky. It can be as simple as flopping on lawn chairs in your backyard or can involve a family camping trip.
The Stars, by H.A. Rey (Curious George), is an excellent beginner's guide. Don't forget to check out the nighttime bugs, birds, and animals.
– Observing Nature
Pick up summer sketchbooks for each of you and a set of decent colored pencils. Spend time just sitting and drawing what you see.
You'd be surprised at how different all of your pictures will be. (If you are not an artist, check out the book Keeping a Nature Journal for ideas to get you started.)
If you live near a pond or lake, capture some tadpoles and raise them at home. It's surprisingly fascinating.
– Educational Hopscotch
Turn an "oldie but goodie" into a fun learning game.  Make your hopscotch pattern however you want.
In each block write:
Sight words
Decodable text with patterns
Basic addition, subtraction, multiplication, or division facts
As your child hops from spot to spot, they have to read the words or answer the facts.
You can differentiate this for children of various ages by using different colors of sidewalk chalk for different words or facts in each space!  Keep tally marks, too, (in chalk, of course!), to keep track of how many facts you correctly answer or words you read!
– Reading or Math Picnic
Pack your child's favorite lunch and head to different picnic spots.  But, instead of your traditional red and white checkered picnic blanket, make your own!
Grab a solid-colored sheet from the Dollar store, an old sheet from home, or even a plain shower curtain liner.
Draw different spaces on the sheet or curtain-like you would if you were making puzzle pieces.
Then, fill in letters, numbers, words, or facts in each space.
As you're enjoying your picnic, each time you touch a space, you and your child need to read whatever is in that space!
Or, while you're at the store, grab a bean bag and take turns tossing it onto the "blanket" and read whatever is written in the space your bean bag landed on.
You can also throw bean bags for each other and see who can read the fact/word your partner's bag landed on first!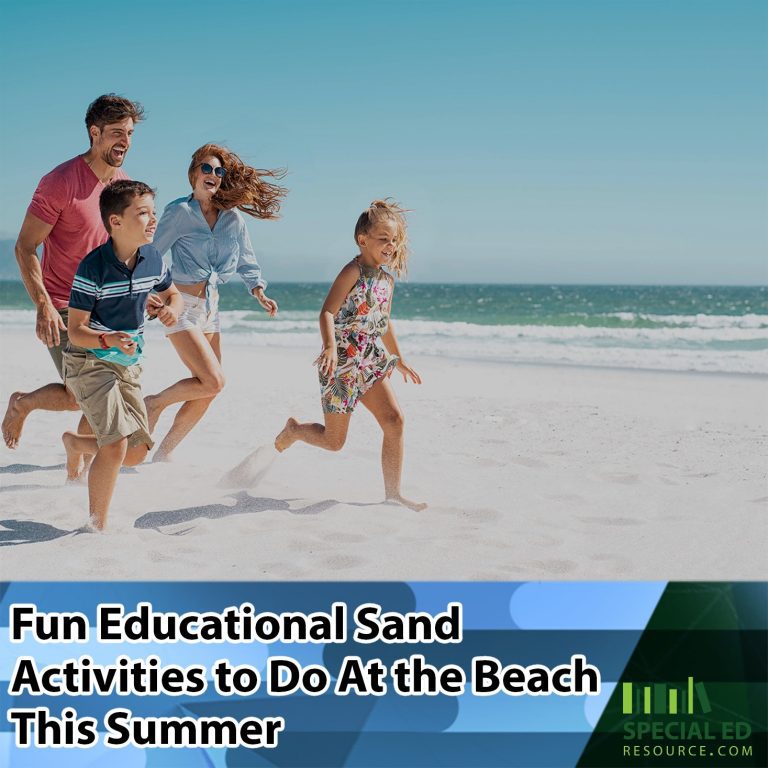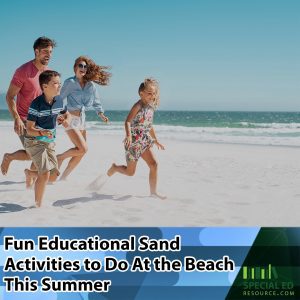 – Beachtime Summer Learning Activities
You can easily make beach time educational!
If you want to do a little work beforehand, or even while you're at the beach, grab a dry erase marker and write some words (or math facts!) on the buckets, shovels, beach balls, and other toys that you bring.  Have your child read the words or facts as they are playing.
Need a less obvious activity? 
Play "I Spy" with your child to develop vocabulary and thinking skills…
Take turns spying on something and giving clues or asking questions to find out the object.  You can even use clues like "it begins with (insert letter sound), it rhymes with (insert word).
Here are additional educational sand activities to do at the beach this Summer. Oh, and don't forget to read the packages of the snacks you eat throughout the day!
#2 Take Your Learning on the Road
Summer is known for vacations and other family outings that many do not have an opportunity to do during the school year…
But, if you're strategic, you can easily slide in some opportunities to practice academic skills. Try some of these road trip learning activities while traveling.
Even if it is just a day trip, make it a grand adventure…
Create a "bucket list" and help your child check off things they want to do! Help your child document the journey through pictures and journals.
A travel journal is a great way to keep your child writing over the summer!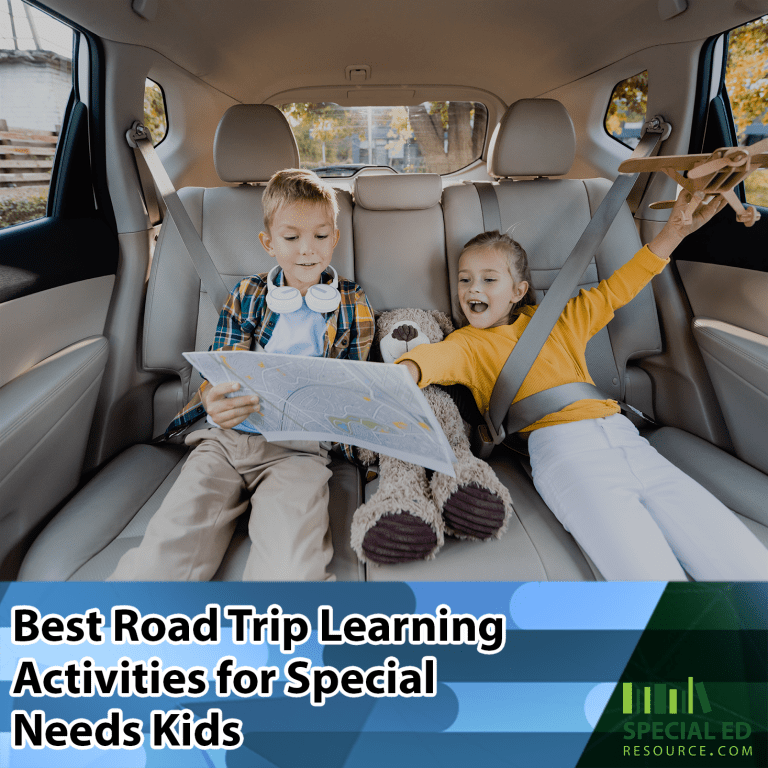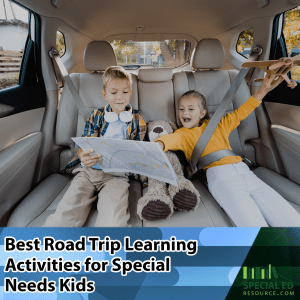 – Zoo Trip Learning Ideas
As you're visiting different animals, ask your child to use multiplication to figure out how many "legs" are in the cages.
Or, for a younger child, to practice counting, just simply have them count the legs in each cage.  You can even make tally marks on the zoo map to show the number of legs in different areas of the zoo and count them all up when you're done.
You could also count eyes, wings, noses, etc. based on the skill level of your child.  Or, even switch it up to keep it fun.
Other Types of Animal Traits to Count:
Animals with black fur
Winged animals
Animals that live in water
Tree animals
Additional Animal Topics to Discuss:
What foods do the different animals eat?
Identify the parts of trees/plants in the different habitats of each animal
The classifications of each animal
– Amusement Parks and Fairs Learning Ideas
While you're waiting in line for rides, have your child
Read the signs
Find rhyming words that match the words in the signs
Find words within words
Make it a competition by seeing who can come up with the most or take turns finding words.
If your child is a little older, see if they can put the words on signs in ABC order without writing it down.
You can also practice skip counting by two's and count people wearing a certain color/style of shoe.
Practice elapsed time by having your child read a clock (maybe you have an analog watch or use your phone as an extra challenge). Set the alarm to go off randomly and have your child determine how much time has passed each time the alarm goes off.
This is also a GREAT place to practice map and problem-solving skills.  Have your child determine which way you need to go to find the next ride.
– Field Trip Fridays
Field Trip Fridays could be an easy way to enjoy summer and discover new and fun summer activities to do as a family. Each Friday, your family could experience something new in the community.
Talk to managers of local businesses and see if you can arrange a tour. They are surprisingly interesting.
What are Summer field trip ideas?
Eat at a different restaurant each week to experience new and different foods. 

Visit a local nursing home and learn about others within the community and how they enjoyed their lives. 

Go to the library for different learning and craft opportunities- they usually have daily summer activities for kids. 

Having a weekly walk at the park is a great summer activity for your whole family. There are also thousands of national parks throughout the country that families can visit for a reasonable price. 

Are there any local farms your kids would like to visit? Maybe you could visit an Amish farm or even investigate different animals at a zoo.

Visit a museum or aquarium in town or a short drive away. 

Television stations
Radio stations
Grocery stores
Post office
You can have summer fun without being stuck in the house all summer long. Pack a bag with easy snacks (or maybe buy lunch at some places) and sunscreen if you will be outside. 
– Errands and Shopping Trips
On days where you must run errands, put the kids in charge of navigation – without a phone. I was the map reader in my family and still even with all the GPS apps I still like to look at a map when traveling.
At the grocery store give each child a mini-list and a budget and send them off to get what's needed. Anything can be education if you pay attention and draw on your patience reserves to let the kids play an active role.
#3 What Learning Activities Can You Do at Home This Summer? 
But what if you don't want to leave the house? There are a lot of ways that you can provide educational activities for your child at home.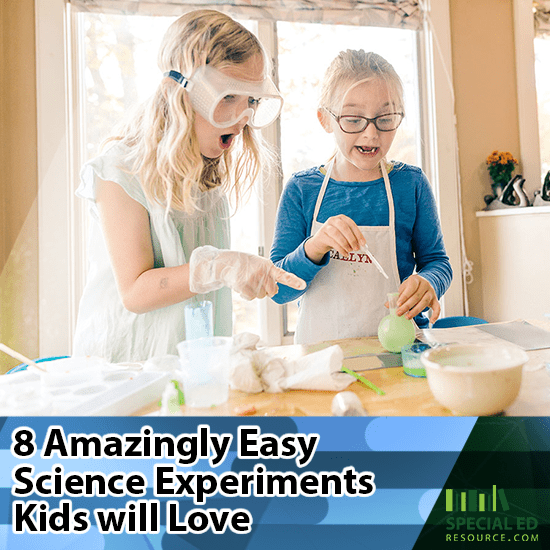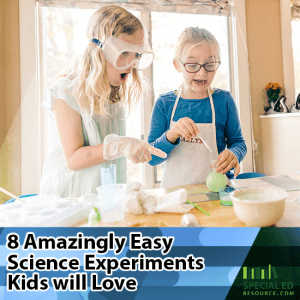 – Science Experiments
Science experiments are an excellent way for your child to learn while having fun over summer break.  
A science experiment doesn't have to be complicated. And no worries, you can do this using everyday household materials.
Try using random items to see if a reaction occurs. For example, some liquids are reactive to Alka-Seltzer tablets.

Another experiment to try is to see if certain liquids affect plant growth.

Try one of these easy science experiments kids will love!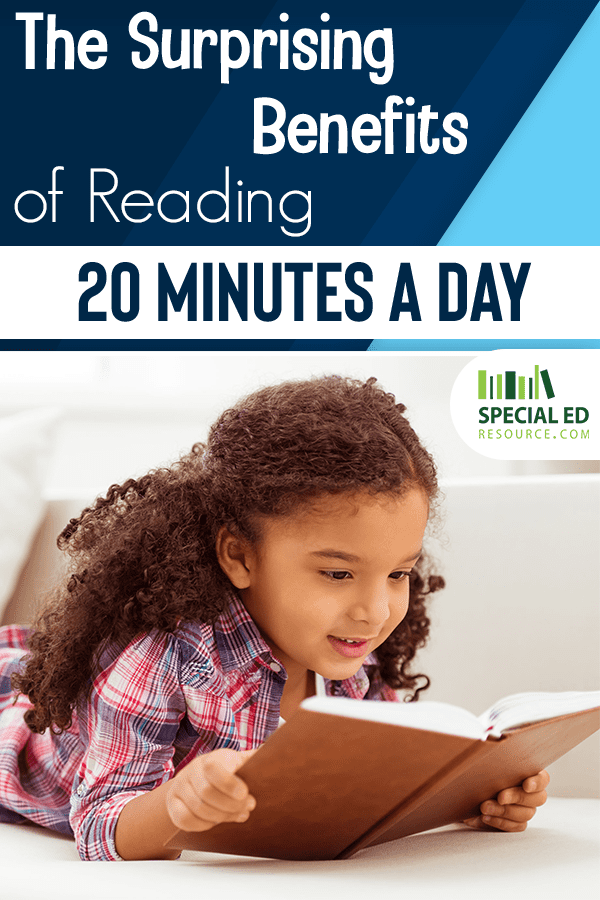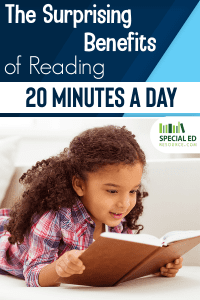 – Read Read Read
It may not sound like fun, but reading is a super easy Summer learning activity.
Reading is integral to everyday life, especially for children who struggle with reading.
Statistics say that children who do not read over the summer can lose up to 3 months of reading skills they have already learned! You will be amazed by what just 20 minutes of reading a day does. 
This can be avoided, though by continuing to read…
Check out the Library
Summer is a great time to hit the library and find out what kind of books your child truly enjoys reading! Most libraries have a summer reading program that provides activities and prizes for reading too.
It is the perfect time for your child to discover a love of reading and have fantastic adventures through stories. Even if your child struggles with reading, that is ok. They don't have to know every word to read.
Statistics show that kids keep growing in reading, just by doing more of it! And if available pick up the audiobook to allow them to follow along with the text.
Reading

"in disguise"
Nutrition Labels

Recipes

Directions to putting together new furniture
Although they don't have to read in those ways, you can have things about their favorite things.
For example, I have had a student who loved sharks, so we read everything about sharks. 
This can include:
Library books

Online resources

Magazines
– Scavenger Hunts 
Kids love to have scavenger hunts. So these can easily be Summer learning activities in disguise.  
Word scavenger hunts around the house.

Nature scavenger hunts with different rocks, figs, and sticks.

Ingredient scavenger hunts in the kitchen to find various items for a recipe.

Color and number scavenger hunts around the house for those just learning their colors and numbers.

This scavenger hunt looks like a lot of fun! 
– Arts and Crafts
Children love to be creative. There is so much more freedom during the summer so that they can create things on their own. What I enjoyed most about the summer was going to the local camp. They had daily crafts for us to do. Crafts can be simple and include few ingredients. 
Arts and Craft Activity Ideas
Make a popsicle fan using a paper plate, glue, popsicle sticks, and markers to decorate. 

Origami art using different pieces of tissue paper

Use recycled cereal boxes and magazines to create a collage by gluing the different materials onto a cardboard sheet or paper plate.

Learn about a famous artist in history and have your child create art inspired by the artist. You could even research photos of some paintings to look at different artistic styles through the years. 

Decorate water bottles or paint rocks to go in the garden.

Make a pop bottle firefly.

Get a binder and add pictures of summer activities along with journaling from summer memories. Make it into your summer scrapbook!

Make quick and cheap sidewalk chalk paint.
Create these jellyfish suncatchers.
Make these tie-dye beach towels.

Create Kites
Kites are a fun way for your kids to learn about shapes and colors and can show their creativity. You can have your kids create their kites using popsicle sticks, glue, paint, paper, and strings.
Kids love playing with Bubbles. Bubbles are a cheap and creative way that kids can have fun. You can upgrade the kids' bubbles to create scented, colored bubbles using food coloring and essential oils.
Llamas are all the hype for kids today. An easy way for kids to make their own special Llamas is by using paper plates, markers, glue, scissors, and any cool gems to glue on their Llamas.
In most school systems, students have art weekly. Crafts are another way for students to enjoy arts and still have summer fun.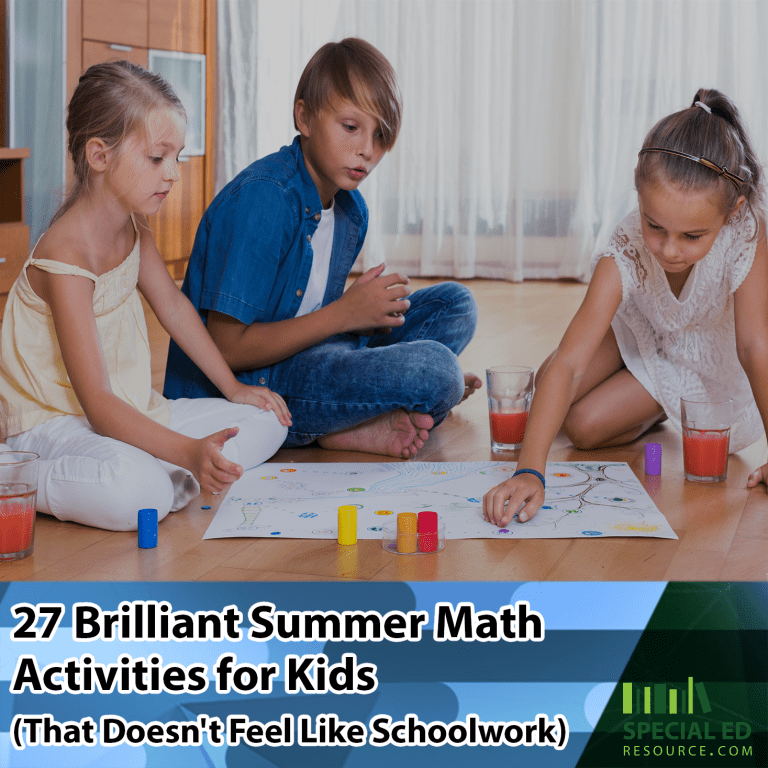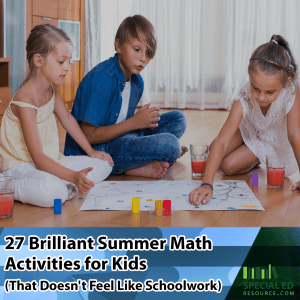 – Math Learning Activities
There are plenty of ways to practice problem-solving and logic skills. Check out these 27 Summer Math Activities for Kids (That Doesn't Feel Like Schoolwork).
#4 Summer Learning Activities the Whole Family Can Enjoy
– Family Book Club
Reading isn't just for the kids. So why not have a family book club as a fun summer activity? 
First, decide on what book to read 
You can choose by:
Taking turns who selects the book each week.

Everyone puts their favorite choice on a piece of paper, and you have a drawing each week.

Look to your local library's Summer Reading Program for suggestions. 
Next, make a trip to the library or local bookstore to get copies of the book. Your child might want their own copy to hold themselves.
Finally, decide on the plan. Who will do the reading? Depending on the book, your child can read it to you, you read it to your child, or you both take turns reading. 
When and how often will you read together? 
After dinner

Before bed

Specific reading time each day
You can read a chapter every day, but also take time out to sit and discuss the topics presented in the book with your kids. 
If you worry about not finishing the book on time, decide when you will finish it. This way, you are committed as a family to working together in accomplishing one task, finishing a book!
Check out these ideas on family book club books. 
Music Mondays 
Each Monday, you and your family could do something involving music. 
Music Activity Ideas
Choose a weekly artist and learn about their music throughout the week. 

Learn how to play a new instrument or the keyboard and practice every Monday.

Weekly karaoke can be a great way to spend time with your family and learn about different songs and genres. 

Create a theme for the week and play songs that fit. For example, if country music is your theme, have a round-robin of each family member singing their favorite country song. 

Go to a concert, opera, or watch a musical together.

Check out this Pinterest board full of music Monday ideas.
Every week, you could try a different musical summer activity. It will keep summer not only fun but exciting too!
– Water Wednesdays
There is no doubt kids love water! Swimming is always a fun summer activity to do as a family. But there are so many other ways to have fun with water and maybe even turn it into a learning experience. 
Water Activity Ideas
Water your plants or flowers with buckets, tubs, watering cans, hoses, sprinklers, etc.

Paint with water- Get big rollers, paintbrushes, and buckets of water to paint the driveway.

Water balloon toss with different sizes of balloons. Measure out how far you can toss it or how big the puddle it makes.

Beach day making sandcastles, bodyboarding, and playing in the water.

Slip and slide races

Get out measuring spoons, cups, and different-sized containers to see how much volume it holds of water.

Play tag with spray bottles of water.

Learn about the water cycle by making one in a zip lock bag.
Water Wednesdays might end up being the highlight of your child's summer!
#5 What Summer Educational Programs Are Available?
If your child is behind or regresses considerably over the summer break you may want to have more structured time for learning. This can be as little as one to two hours a week or a full-day program.
Providing an engaging environment over long breaks like summer can seem difficult when children have plenty of free time on their hands, and you don't. Fortunately, there are plenty of local programs that provide summer learning activities.
– ESY or Extended School Year Services
During summer, some children show regression in the area of academics. Therefore, Extended School Year Services or ESY services can be added to a child's IEP or Individualized Education Plan to prevent summer regression. 
Summer regression is one of the most common topics in regard to special education students. As a parent, you can advocate for your child during the summer. ESY services is an IEP or Individualized Education Plan service that the team can add if the group collectively feels your child would benefit from ESY. 
– Summer Camp 
Summer camp is an excellent way for your child to make friends, gain new skills, and explore different interests!
Organizations that Offer Summer Camp
Many different places offer summer camps, and they come in all shapes and sizes to suit whatever adventure suits you best!
So whether you're looking for a science camp or something more adventurous, there is an option out there just right for your child's needs.
Examples of Organizations Offering Summer Camps
Churches

Libraries

Community colleges

School systems 

Nonprofit groups

Museums
Public school systems often offer skills camps that are usually a few weeks long. Students will sharpen their academic skills in specific subject areas. These camps can also be great for those who need some social skills.
The best camps are the ones that allow students to try something they've never done before. For example, I went to a camp program one summer where we learned about rockets and built our own in the process!
How to Find Summer Camps? 
Here are two places to start your search for summer camp programs: 
– YMCA or Local Fitness Clubs
At school, children need to get a certain amount of time for physical education per week. As a teacher, I saw the benefits of physical education and recess during the school day. During those times of the day, children can release a lot of their energy. 
However, during the summer, kids have the most availability in their schedules. Most YMCAs or local fitness clubs have many great programs for the kids during the summer.  
Almost every YMCA has a summer program where children can come for the day and do different activities. 
Activities Include: 
Art time

Fitness hour

Nutrition class

Outdoor activities
These centers also often offer classes for parents and children to participate in together.
– Community Organizations 
During the summer, many churches or organizations offer different childcare options for parents who are working. In addition, they often have opportunities for children to participate in engaging activities.  
For example, a Martial Arts Karate School teaches children summer martial arts in my town. They also offer skills, camps, and before and after school programs for children. There are also several churches in the area that offer these opportunities.
Your city or nonprofit organizations may offer activities for students over summer break. 
Examples of Nonprofit and Community Organizations With Activities
Girl Scouts

Boy Scouts

Churches

Big Brothers, Big Sisters

Boys and Girls Clubs of America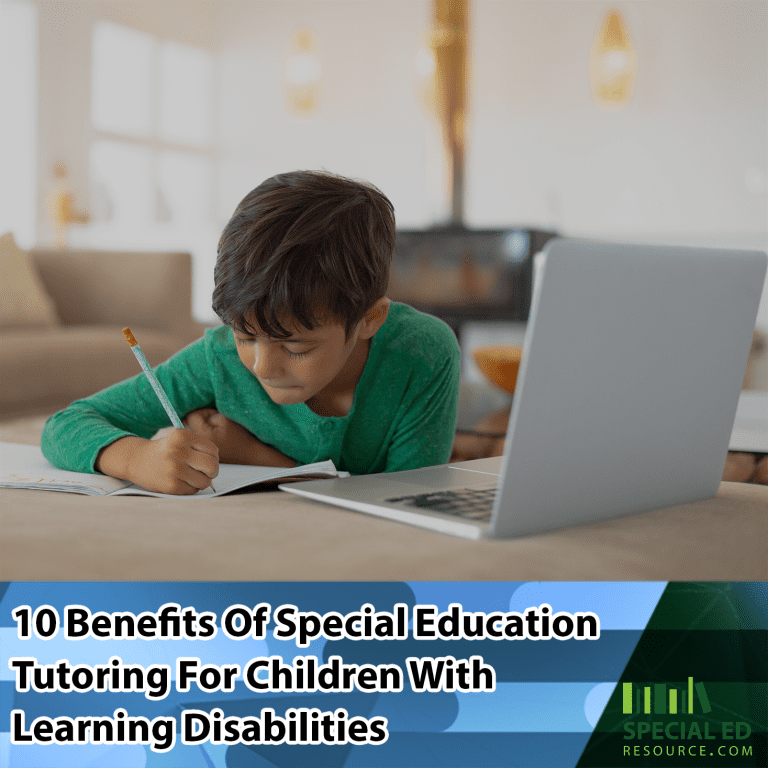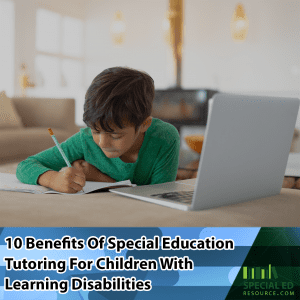 – Online Special Education Tutoring
We offer one-on-one special education tutoring that can be done from anywhere your child is! That can be at home or on vacation. Our special education experts conduct their sessions online! Get started with a free consultation today!
Summer Learning Tips
– Learn Something New Together
Nothing helps kids appreciate learning as when they get to learn alongside their parents. Pick something you have never done before and give it a shot.
Many martial arts studios have mixed beginner classes. The kids will get a kick, literally, out of seeing mom or dad struggling alongside them. Martial arts are great, not only for fitness but, for memory, discipline, coordination, and general manners.
Or pick a new cuisine and work together to master a few recipes. Double or halve recipes for a subtle math review.
– Keep Your Plans To Yourself
Nothing sucks the fun out of something like Mom announcing "We're going to learn all about <insert subject> today! Aren't you excited?"
Except for the very youngest children, Mom has just sucked all the life out of a summer's day once filled with endless potential. Remember, there are lots of ways to learn.
– Keep A Regular Routine
Yes, we all love not having to set our alarm clocks and sleeping in every once in a while.
But, having no routine EVERY day can be damaging…
Kids need routine.
They thrive under routine.
By keeping a regular bedtime, wake-up time, and some simple routine activities, you can keep your child in "ready" mode. Ready for whatever they need to do that day.
Additional Summer Learning Activities and Resources
Most children love summer because there is no school. Although kids need a little break from academics, they still require socialization, academic support, and a consistent schedule. 
Most children thrive with consistency. After all, consistency is critical in achieving many goals.  
Summer learning is critical for a student's growth and development. But the learning activities don't have to be traditional paper and pencil methods. There is plenty of room for fun.
What activities have you found that help your child? Drop them in the comments below.
Below are additional learning resources you may want to check out 
Do you have a child that needs more one on one assistance?  
We offer one-on-one special education tutoring that can be done from anywhere the student is! Why? Because our special education experts conduct their sessions online!
Get started with a free consultation today!