Stop The Brain Atrophy Caused By Summer Break

Just as every little "world" (profession, hobby, sport, etc.) has its own language, you'll soon discover that the world of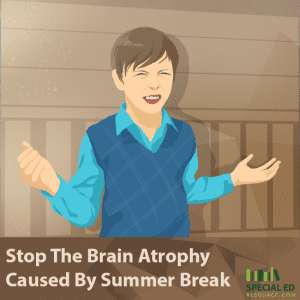 special education has not only its own language but its own special way of contorting the letters of the alphabet to give them new and special meaning.
If you are a hands-on parent, confronting the special education world is not the time to go shy. Use this handy ten-point checklist to help your child gain the most from the special education resources, like Extended School Year (ESY), available to them.
1. Make IDEA yours.
IDEA, the Individuals with Disabilities Education Act, is the law of the land. As a hands- on parent, it is up to you to read and understand the law as it applies to your child as well as how it is implemented in your state and local school district.
Yes, this requires time and work on your part.
However, it is time well spent. Never let anyone, no matter how well-intentioned, interpret the law for you. One of the main thrusts of IDEA is to ensure that every child, regardless of their challenges, receives a Free and Appropriate Public Education. (FAPE)
To this end, states must provide services and programs that ensure children with special needs are getting the best education possible.
2. Understand ESY.
Extended School Year services are a specific provision of IDEA.
The goal of ESY is to keep children on track with their learning throughout school breaks. The law stipulates that ESY must be provided at no charge to parents (If Qualified).
Beyond that, however, the national law is vague on how ESY is to be implemented, who qualifies and what exactly must be documented to qualify a child for the service. A parent's challenge is to learn their state and local school district's ESY policies.
It is equally important to understand what ESY is not.
It is not summer school.
It is not an enrichment program.
While one goal may be to keep a child from losing knowledge during a school break, that is not the only qualification for ESY. Become familiar with the Wright's Law website to learn about case law specific to your state. The site offers easy to read interpretations of the laws as well as real-life experiences from parents around the country.
3. Get Personal.
Children with learning or other disabilities commonly have an Individual Education Plan (IEP) when they reach school age.
Under IDEA, the IEP addresses your child's specific needs on a year-by-year basis. Each qualifying child has an IEP team consisting of parents, a general education teacher, a special education teacher, persons with special knowledge of your child (as invited by the school or the parents), and one or more administrators.
You are part of the team.
You are not a guest.
Nor is the team working for you.
Do your homework and be prepared to be an active member of the IEP team throughout your child's school career. As your child gets older, encourage them to participate in their own IEP strategy meetings as much as possible.
4. Get Organized.
As your child's best advocate, being organized is one of your best strategies.
Pick up a milk crate and a box of hanging files to get started.
You will want files documenting your child's disability as well as a file for each school year. If your child has or will have an Individual Education Plan (IEP), start a file for each year's IEP as well. As you find information, collect copies (and start a file) to provide to the IEP team and others who might not be aware.
If you plan to use ESY services (either state provided or private) for your child, create an ESY file and document any changes in your child's knowledge or behavior during and after school breaks.
The more concrete examples you have, the more likely your child will be to qualify for ESY.
5. Set Goals.
Work closely with your IEP team to set realistic and measurable goals for your child each year.
Remember you are an equal member of the team – no one is doing you a favor by letting you participate.
At the beginning of each school year, consider if your child is more likely to achieve the goals you are setting if ESY is included during school breaks.
6. See The Forest.
While your job is to advocate for your child, keep the overall school system in mind when seeking services. School districts are increasingly required to provide services for an enormous array of learning and other disabilities.
No school can do everything well.
There will be times where you have to accept that you may need to take action yourself when the school cannot meet your child's needs. Look into special needs tutoring or special education homeschool resources if you feel there is more you can do to help your child.
7. But Don't Forget The Trees!
Just because your school district does not offer everything your child might need there are steps you can take locally to make changes.
Talk with other parents of children with special needs and/or learning disabilities. Work together to devise strategies to help your children within and without the school system. Research what is being done in school districts around the country to see if you can put those ideas to work at home. Your ideas and suggestions can often result in a tailor-made program for the children in your area.
8. Make A List.
After researching ESY programs in your area, take the time to make a list of pros and cons for your child.
ESY is a year-to-year program.
One year, your child might benefit from ESY particularly if they made significant gains in the prior school year. Another year it might be more beneficial for your child to spend extended breaks with a schedule free of formal school work.
9. Get Personal.
When discussing ESY with your IEP team, keep in mind that ESY is an individualized program rather than a one-size-fits-all.
For some children, ESY may be something as simple as packets of work sent home during a break that a parent and child can do together with support from a teacher. Other children can benefit from special education tutoring or other services provided by a source other than the school system. Online programs, community programs, and other non-school resources are routinely used to round-out the ESY experience. Discuss your options early and often.
10.Have a Plan B.
Due to limited resources or funding or due to your child's specific needs for the current school year, ESY can be difficult to access.
If your child is denied ESY, don't panic.
First, it's only for one year.
Second, there are things you can do to keep your child's knowledge, behavior, and skills up to speed.
There are numerous special education homeschool resources online where teachers and parents of children with special needs share techniques and activities that have worked for them. You may be surprised to learn that Pinterest is an excellent resource to get you started.
In Summary;
Learning your way around the special education system presents a challenge.
Sitting on the sidelines and passively watching your child move through the system will lead you to frustration and, sometimes, anger.
Instead, take a do-it-yourself approach.
Take it upon yourself to learn all you can about your child's challenges, your child's school system and special education law as it pertains to your situation. Not only will you garner respect (often resulting in action) from teachers and other school professionals, you'll be doing the best to see your child gets an individualized plan that will maximize their potential.
If you thoroughly understand programs like ESY, you are much more likely to get that service for your child. You won't become an expert overnight.
Baby steps!
Research, read, ask questions and talk to parents who have gone before you. You're going to surprise yourself!