ESY For Self-Contained-Classrooms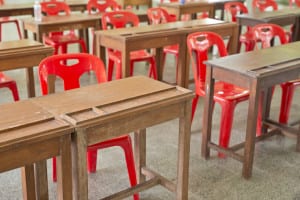 In the muddle of letters and abbreviations commonly tossed about in the world of special education, it can be easy to lose sight of the goal – helping every child receive the best education possible. As a parent, it can be easy to feel lost in the shuffle as you negotiate your way through the public school system. Understanding the law as it applies nationally and locally will help you to understand your rights and your child's rights. Two special education issues that can be difficult for parents are "self-contained classrooms" and "extended school year" or ESY. Educating yourself about special education laws will help you to ensure that your child gets all the benefits and services they are entitled to.
Under the Individuals with Disabilities Education Act (IDEA), children with disabilities are guaranteed a free and appropriate public education (FAPE) in the least restrictive environment (LRE). While these two stipulations are contained within IDEA, they are not explicitly defined thus, each state has been left to determine what FAPE and LRE mean. As a parent, you can research the case law in your state to best understand what services your child is qualified for in your particular state. When you understand the law, you will be in a better position to work with your child's Individual Education Plan (IEP) team. In fact, you may find that you are able to educate the IEP team members.
By and large teachers and other school staff are well intentioned and truly want to be helpful. That, however, does not make them legal experts. If someone from the school tells or suggests something to you that does not seem quite right, do your own research. You're likely to find that your instincts were right. If you do find the school to be in error, print out your findings and bring them with you to your child's IEP meeting. Keep in mind that most errors made by school personnel are innocent and present you findings in a non-confrontational way.
Two areas of special education can be especially difficult to navigate: self-contained classrooms and extended school year. Depending on your child's disability and the severity of their disability, you may need to understand one or both of these concepts.
In the case of self-contained classrooms, it is important to keep in mind the LRE provision of IDEA. No matter what your child's disability, they are entitled to remain in a general education classroom if they are able to learn with the use of supplementary aids and services. Supplementary aids and services are determined on an individual basis. For some children, it might be something as simple as allowing extra time for test completion. For other children, it might mean bringing in a specially trained teacher's assistant. You and your child's IEP team should work together to figure out the best way to help your child learn in a regular classroom. For some children, however, their disabilities may be so severe as to warrant them being placed in a self-contained classroom where there are fewer children and teachers with specialized training. Just because a self-contained classroom is deemed necessary for your child, it should not be seen as a permanent situation. Whether or not the self-contained classroom is the best fit should be revisited at each IEP meeting.
Extended school year (ESY) services are another component of special education that can be difficult for parents. ESY services are for children who are deemed likely to lose knowledge, skills or behavior during school breaks. ESY is also for children who are deemed for other reasons by their IEP team to be helped with continuing therapies or educational support during breaks. The school district cannot limit ESY to certain types of disabilities. Each state has different rules and programs to fulfill the ESY portion of IDEA. If you believe your child would benefit from ESY bring it up early in the school year with your IEP team. Throughout the year keep your own records and document your child's learning and/or behavior to support your case for ESY. ESY services can include variety of instruction and/or services: a take-home program for you and your child to work on together; classroom time dedicated to the study of one or two subjects; special education tutoring provided by an independent source; or speech, physical or occupational therapies.
If, during the regular school year, your child is in a self-contained classroom and you believe they would benefit from ESY, it is important you do your research. In some states, children who learn best in a self-contained classroom will receive ESY in a self-contained environment. In other states, this is not the case. It will be up to you and your child's team to determine if the ESY offered in your school district will, indeed, benefit your child or if it will instead prove to be disruptive or detrimental.
There are times where ESY will not be offered to your child or where you decide that ESY is not what your child needs. In that case, you can still help your child learn and maintain skills during school breaks. There are plenty of special education homeschool resources available online that can help your keep your child's education on track during school breaks.
If you would rather your child receive professional special needs tutoring, you can develop a highly personalized program. Many families have made the decision to supplement their child's education with a one-on-one program through special needs tutoring. Working directly with a special education expert can make a massive impact in your child's academic AND behavioral progress. In today's world, it's most often what happens outside the classroom, that leaves a lasting impact on a child's future. They only spend a small amount of time in school… most of a child's time is spent at home.
Lastly, you can put together your own cache of special education resources to use during breaks (and throughout the school year if you wish) that complements your child's public school education.
Whatever route you choose, the more information you gather the better equipped you will be to ensure your child receives every opportunity they are entitled to!